OPEN ACCESS APPOINTMENTS CURRENTLY SUSPENDED!
The practice runs an Open Access surgery each weekday morning between 08:30 and 10:30. You do not need an appointment to see a doctor between these times.
An Open Access surgery operates on a first-come, first-served basis with anyone who arrives before 10:30 being seen. Whilst this guarantees access, it does mean that numbers are hard to predict and, in general, doctors have to work as quickly as they can. This in turn means that patients should be aware that the Open Access Surgery is not the best time to be addressing complex problems and is also not the time to be presenting a "list" of problems.
On busy days, we respectfully request that patients remember that consultations should be limited to one problem and to not be offended if they are asked to make an afternoon appointment to deal with an issue further.
Urgent Appointments
If you need to see a doctor the same day, please do try to attend the open surgery in the morning, as afternoon surgeries are often fully booked.
Bookable Appointments
Afternoon and evening surgeries and all clinics are available by appointment only. Afternoon appointments can be booked and are 10 minutes long although patients can request double appointments if they feel they need more time. In general, patients who are new to the practice are best advised to book an afternoon slot for their first appointment with a doctor rather than using the Open Access surgery.
You may see the practice nurse by appointment only. Please see the 'Surgery hours' timetable via the link below for details.
Bookable appointments are available, Monday to Friday, afternoon and evenings only, and on Saturday mornings, between 09:00 and 12:00. No phone calls will be taken during Saturday morning surgery.
To make an appointment please telephone 01449 740254
You may see the doctor of your choice, no matter with whom you are registered, although it is sensible to see the same doctor if you are receiving on-going treatment. There will be occasions when the doctor of your choice is not available, in which case you will be asked to see another doctor.
Saturday Morning Surgery
The surgery is open on Saturday morning for pre-booked appointments only. Phone calls will not be taken during Saturday morning surgery.
The dispensary is open on Saturday mornings for the collection of repeat medication previously requested.
You can book an appointment on a Saturday morning at any time and as far in advance as required. The appointments are for 10 minutes duration. Please note that we are unable to provide smears, fit coils or offer anything other than routine consultations during these slots. There is no nurse available during these surgeries.
The doctor you see on a Saturday morning will be the duty doctor. If you wish to see a specific doctor, please tell the receptionist when you ring to make your appointment.
Telephone and Email Access for Bildeston Health Centre
If you need to speak to a doctor or nurse during the day by telephone, you may do so between 08:15 - 08:30 or 14:00 - 16:00, Monday to Friday.
If they are currently not available then the doctor or nurse will call you back on a number you provide.
For general enquiries please telephone 01449 740254.
For Dispensary queries please telephone 01449 740254 and press Option 2 AFTER 10am, Monday to Friday or email them on IESCCG.Bildestonhealthcentre-dispensary@nhs.net
Not Registered for Online Services?
Extended Access - GP+ Appointments
Suffolk GP+ is for people who urgently need a doctor's appointment or are unable to see their GP during normal GP hours. Appointments can be made via Reception during our usual opening hours.
Please note: patients cannot refer themselves to this service. The service is staffed by local Suffolk GPs and Nurse Practitioners in Ipswich, Felixtowe, Stowmarket, Leiston and Wickham Market and is an NHS service delivered by the Suffolk GP Federation.
You will be given a booked appointment and will be seen by a suitable local GP or nurse who will have access to your medical records (once consent is given).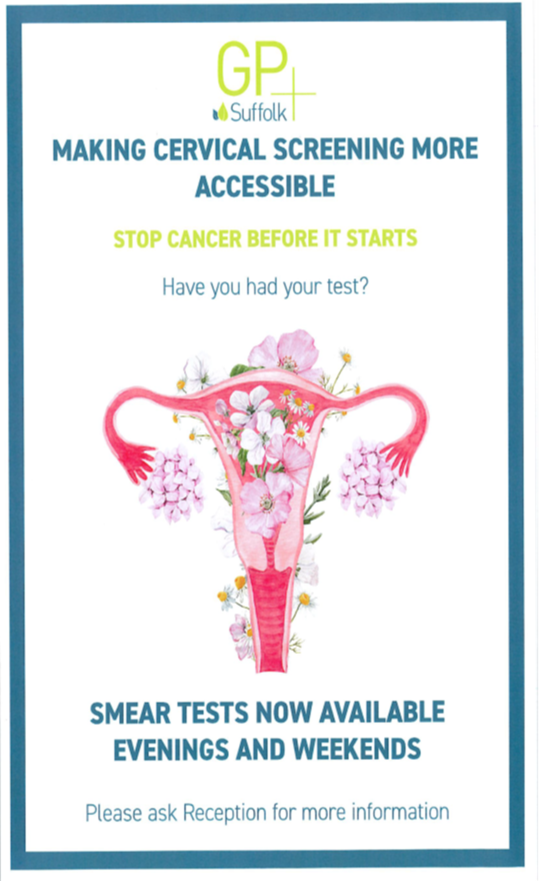 Home Visits
Please help us to plan our day by telephoning your requests for home visits before 10:00.
The doctors and our nurse practitioner are happy to do home visits when necessary, but they are time consuming as we cover a large area of Suffolk. Often visits are requested from patients who are feeling very unwell, or with a poorly child, and do not feel able to sit and wait in the surgery.
We do understand this and we are happy to arrange a time when you or your child can be seen at the surgery within a few minutes, thus eliminating the need for a home visit. Our receptionists will arrange this if you wish.
If you telephone the surgery after 18:30 you will be automatically transferred to the out-of-hours deputising service. Use the night and weekend on-call services for genuine emergencies that cannot wait until the next working day.
You can also be visited at home by a community nurse if you are referred by your GP. You should also be visited at home by a health visitor if you have recently had a baby or if you are newly registered with a GP and have a child under five years.
Cancel an Appointment
It is important that you inform the reception staff if you are unable to attend your appointment, this will allow that appointment to be offered to another patient. If you fail to notify the Practice that you are unable to attend, you will be sent a letter informing you that you have defaulted from your appointment. Persistent defaulters maybe removed from the list.
You can also complete our appointment cancellation notification request form. This can only be used if your appointment has been arranged for more than 24 hours in advance. (excluding weekends and public holidays). You can also text to cancel your appointment.
Text Reminder Service
We have a texting service which allows you to receive confirmation and reminders about your appointments.
To have this service you will need to register by completing a consent form.
Please remember to update your contact details with us when you change address, telephone numbers and email address.