Citizens Advice Sudbury & District
Outreach telephone sessions available to Bildeston Health Centre patients:
Tuesday ring 07384 429361
Wednesday ring 07586 741 250
Thursday ring 07379 202164
National Citzens Advice - Helpline 0800 144 8848
Samaritans:
116 123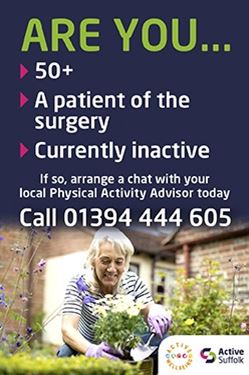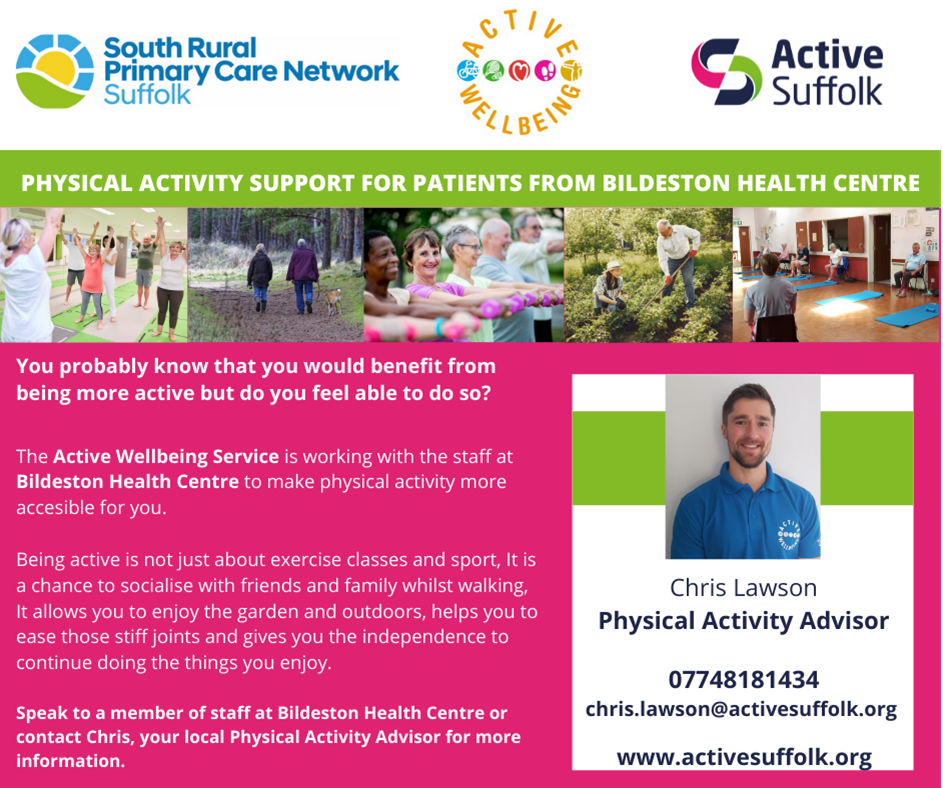 Suffolk Family Carers - Bildeston Carer Friendly Surgery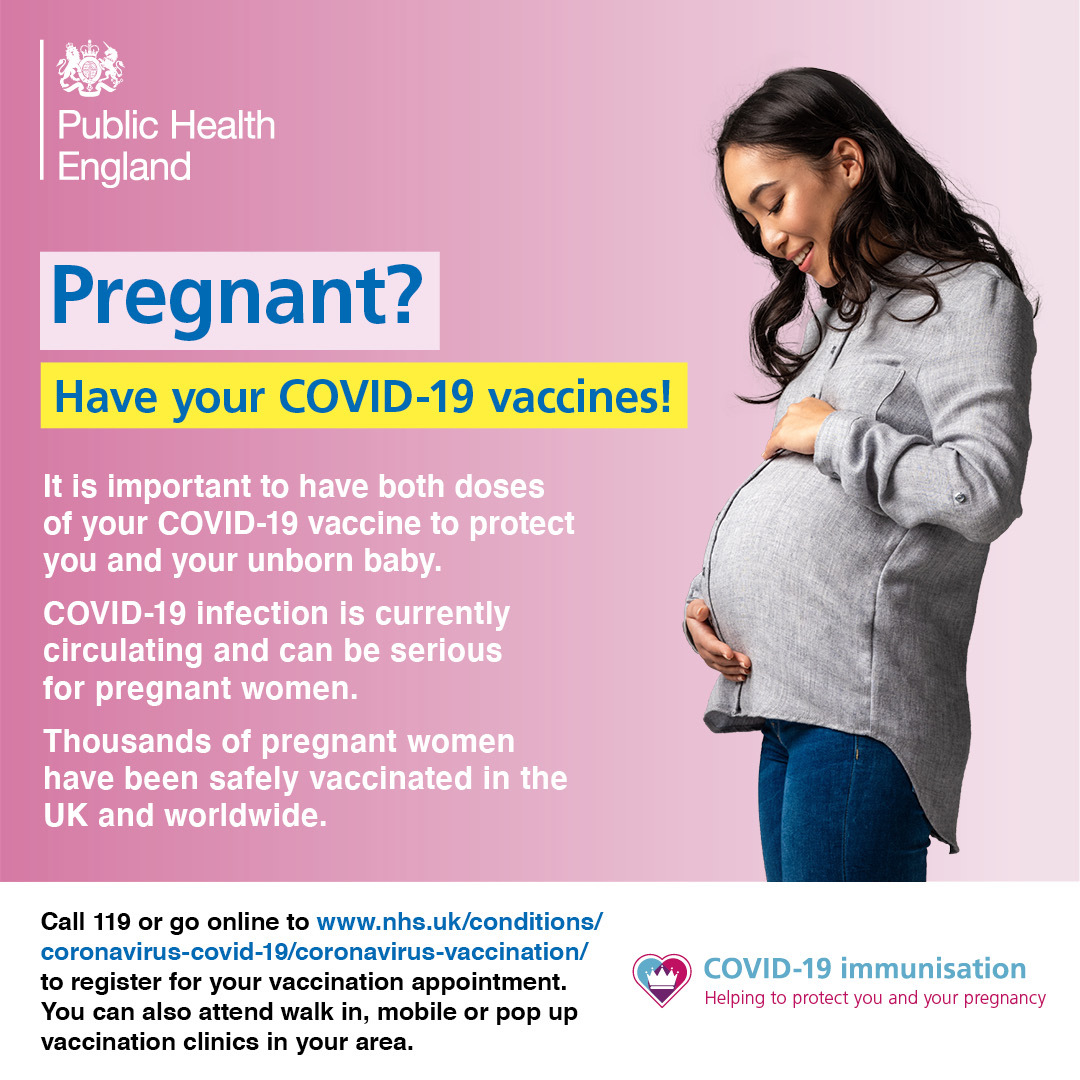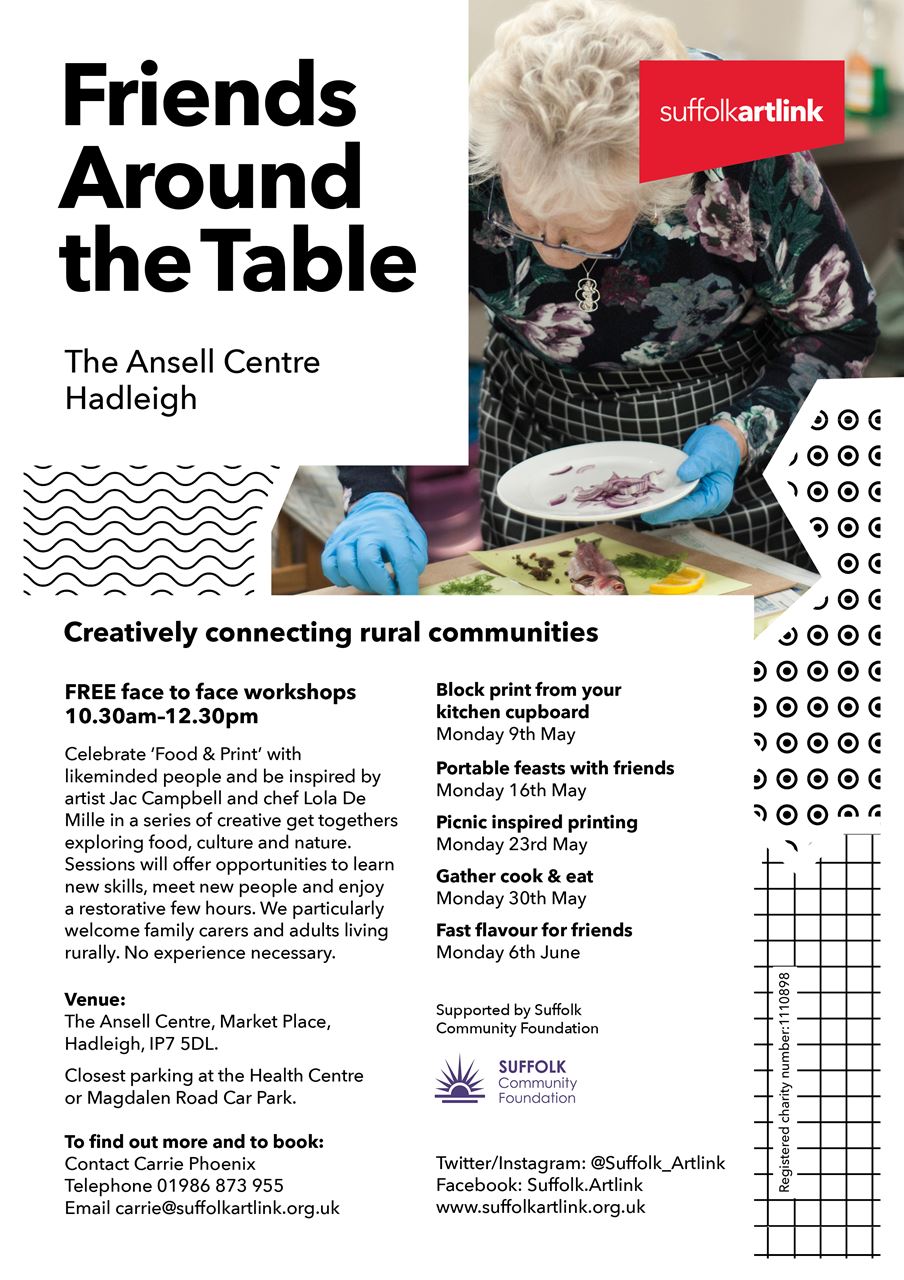 Miscellaneous Services Information
Urgent Dental Care During Covid-19 - If you think you need urgent treatment:
Call your regular dentist or if you do not have one, call an NHS Dental Practice.
Or go to 111.nhs.uk or Call 111
If a clinical appointment is necessary this will be arranged at your dental practice or at a UDC.
Please do not visit A&E department or your GP with dental problems.
Please click on the link below to take you to the Suffolk Libraries website where you will be able to find lots of useful information including a 'loan of a laptop'!
https://www.suffolklibraries.co.uk/
Home but not Alone:
A new community service to support people who need help during the COVID-19 pandemic. Contact 0800 876 6926 - this line will be staffed from 09:00 to 17:00, seven days a week.
Suffolk Advice and Support Service - for anyone needing support with debt, housing or employment. 0800 068 3131.
Domestic Abuse Outreach Service operated by Anglia Care Trust 0800 977 5690
First Response: Suffolk helpline for urgent mental health support 0808 196 3494
Suffolk County Council Customer First if you are worried that a child, young person or adult is at risk of abuse, harm or neglect 0808 800 4005
Miscellaneous Services:
The Cancer Care Navigators are here to help people get the right help and support with all non-medical needs.
They are trained staff working alongside Ipswich and Colchester hospital and with the local GP surgeries to support newly diagnosed patients, their families and carers with practical, financial and emotional concerns they might have.
We are able to offer practical support and advice, which might include:
Helping patients improve their health and wellbeing
Pointing patients towards relevant cancer support groups and courses
Referring patients for emotional support where needed, and identifying who may be best placed to support them
Advising patients on how to talk to family and friends about cancer
Linking patients in with services and support in their local area
Facilitating access to support for any practical needs
Supporting patients with the transition back to daily life, as their care moves from a hospital setting to a community setting.
You can self-refer by calling Colchester on 01206 487288 or Ipswich on 01473 702125 or you can email cancercarenavigators@esneft.nhs.uk
or go to their website:
https://www.esneft.nhs.uk/service/cancer/cancer-care-navigators/
Please click on the link below for information regarding Online Safe Spaces:
https://uksaysnomore.org/online-safe-spaces/
One Life Suffolk - Tel: 01473 718193
Suffolk County Council - Schools Nursing Service
Chathealth for 11-19 year olds. Send a text message to 07507 333356 for information on Anxiety; Bullying; Sexual Health; Contraception; Smoking, Alcohol and Drugs; Sleep; Staying Healthy; Support through Coronavirus.
For Suffolk Residents:
The Suffolk and NOrth east Esex ICS has launched a brand new website which aims to offer residents a single, comprehensive and accurate source of information above Covid-19 vaccinations! Click on the link below :-
https://www.facebook.com/SuffolkCountyCouncil/videos/733405244272550/
Please click on the lick below for information on how to access help if you are suffering with anxiety and depression.
https://www.wellbeingnands.co.uk/suffolk/ or telephone 0808 196 3494 for Urgent help.
Social Prescriber Information
Connect for Health
Connect for Health is a free service being delivered as part of the NHS five year forward plan. Funded by Ipswich and East Suffolk CCG on a one plus four-year basis. The programme assists individuals to find non-clinical solutions to improve their own health and wellbeing. The programme supports patients by offering a private telephone discussion with the Community Connector to explore what matters to the individual. It also aims to support individuals to take greater control of their own health.
It is estimated 20-40% of patients consult their GP for primarily social problems, including social welfare advice​

Social Prescribing can reduce pressure on services – including GPs, social care and A&E​, it has shown benefits in 3 key areas – mental health outcomes, community wellbeing and social exclusion (Friedli & Watson).​

People facing the greatest deprivation in society are experiencing a higher risk of exposure to Covid-19 this identifies the structural disadvantage and discrimination to those marginalised within our community, the social and economic impact of the pandemic is expected to exacerbate health inequalities now and in the long-term future, social prescribing can contribute to reduce that gap and address unmet need.



Supporting good care for miscarriage patients. the Miscarriage Association (M.A.), the UK charity that offers support and information to anyone affected by miscarriage, ectopic or molar pregnancy. Please click on the link below for available leaftets:
Give Us Some Feedback
NHS Choices
Happy with our surgery?
Please leave us feedback by clicking here
Schools Places poster
We are trying to reach all parents/carers of pre-school children who were born between 1 September 2016 and 31 August 2017. It is very important that they make an application for a full-time school place for their child for September 2021 by the closing date of Friday 15 January 2021.

All of the information parents/carers need to help them make their decision is available on our website at www.suffolk.gov.uk/admissions, including information about the School Travel Policy and some School Travel Scenarios. They will also find on our website:
▪ Information on how to apply for a school place, including the steps to follow and what to do if they have any queries. This information can also be found in the Admissions to Schools in Suffolk 2021/2022 guide on our website which can also be downloaded.
▪ Details of all primary (including infant, junior and middle) schools and how places are offered when a school gets too many applications.
Parents/carers should apply for a school place online at www.suffolk.gov.uk/admissions. Only those who are unable to apply online should complete and return to us a paper CAF1 application form which is available to download from www.suffolk.gov.uk/admissions or by contacting us on 0345 600 0981.
Pupils will not be allocated a school place automatically. All parents/carers must apply for a place, even if their child is already attending a nursery class in an infant or primary school, a pre-school or a children's centre next to a school site. This is because a place in a nursery class, pre-school or children's centre does not guarantee their child a full-time place at that school.
It is important that parents/carers consider how their child will travel to and from school before they apply for a school place. The following information is very important:
1. We will provide SCC funded school travel to the Nearest Suitable School that would have had a place available for a child when they are a) aged under 8 and live at least two miles from the school; or b) aged 8 or older and live at least three miles from the school. This would be whether or not an application was made for a place at that school. The nearest school might not be their catchment area school.
2. We strongly recommend that parents/carers check which school is their nearest suitable school on our Nearest School Checker because this might not be their catchment area school. They can find out which are their three nearest Suffolk schools (based on the statutory walking distance including Public Rights of Way) by putting their postcode into our Nearest School Checker. The Checker can be found at nearestschool.suffolk.gov.uk. We update this each year to include new roads and developments.
3. We would only provide SCC funded school travel to their Catchment Area School if it is the nearest school to their home that would have had a place available for their child.
4. Their School Preferences and the order they put them on their admissions application could affect their child's eligibility for SCC funded school travel. Our School Travel Scenarios can help parents/carers work out when their child might be eligible for SCC funded school travel to their school when the age and distance criteria are met. These can be found in Step 4 of the 'Apply for a primary school place' page online at www.suffolk.gov.uk/admissions.
5. Full details about SCC funded school travel, including the School Travel Policy, additional arrangements for low income families and those with Special Educational Needs and Disabilities (SEND), can be found at www.suffolkonboard.com/schooltravel.
The Admissions Oversubscription Criteria for Community and Voluntary Controlled schools gives priority to siblings. This means that it is very important that parents include details on the application form of any other child already at or about to start at the school they are applying for. Failure to provide this information may affect the offer of a school place.
The Admissions Oversubscription Criteria for Voluntary Aided, Foundation, Free Schools and Academies may be different from Community and Voluntary Controlled schools.
Any applications made after the closing date may not be dealt with until after places have been offered to those who applied on time. This means that all available places at a parent/carer's preferred school(s) may have been filled and it could be some time before the outcome of the application is known.
Parents/carers can keep up-to-date on school admissions by:
Liking us on Facebook: www.facebook.com/SuffolkCountyCouncil/
Following us on Twitter: twitter.com/suffolkcc
If parents/carers have any questions, they can email us at admissions@suffolk.gov.uk or by telephone on 0345 600 0981 (local rate).
Knock and Check on a Neighbour!
Please visit this website to find out more information about eBooks, Audiobooks, newspapers, courses and also how to arrange the loan of a laptop!
https://www.suffolklibraries.co.uk/
Knock & Check on a neighbour
Stay well, stay warm, stay connected this winter
Small actions can make a big difference. If you know someone who is vulnerable, give a knock, and say hello. Something as simple as offering to
pick up shopping can be a lifeline for those in need.

We need your help to ensure that no one is left feeling isolated or in need this winter.
Help us spread the word about support services on offer in our district -
The Home, But Not Alone service provides urgent assistance with getting food or medication for those classed as extremely
clinically vulnerable. Call freephone 0800 876 6926, Monday to Friday, from 9am to 5pm.

Help is at hand from the Suffolk Support and Advice Service for anyone facing financial difficulties. The service provides free
confidential advice on a range of issues, from Covid concerns to rent arrears or credit card debt. Call freephone 0800 068 3131.

The Rural Coffee Caravan's Warm Homes Scheme offers free and friendly energy advice.
Visit: www.ruralcoffeecaravan.org.uk/warm-homes or call Diana on 07494 572153 or Annette on 07957 779623.

If you are concerned about the mental health or wellbeing of a young person, aged 25 and under, contact the Children & Young
People's Emotional Wellbeing Hub on 0345 600 2090, Monday to Friday, from 8am to 7:30pm.
Visit: www.suffolk.gov.uk/children-families-and-learning/

First Responders 0808 196 3646 (8am to 8pm, 7 days a week).

Kooth also offers free and anonymous online support and counselling, including a web chat service, for young people.
Visit: www.kooth.com for more information.

If you are struggling to cope and need immediate help, The Samaritans is a 24/7 text service, free on all major mobile networks,
for anyone in crisis anytime, anywhere. Text 116 123.

What else can I do to help?
• Volunteer for one of the many fantastic voluntary organisations in Suffolk
• Pop a note through your neighbour's door with your contact details in case of an emergency
• Bake a cake or make up an extra plate of food for your neighbour
• Pass on magazines or books
• Knock on the door to show a familiar face
• Find your good neighbour network at: SuffolkGoodNeighbours.co.uk.
Later Life Community connect
Summary Care Records
Summary Care Records
The Summary Care Record (SCR) is a national NHS programme which allows information about you – such as allergies and medications - to be shared between clinicians to support urgent care across the country. Adding 'additional information' to your Summary Care Record, such as significant medical history, makes it a much more useful source of information for emergency departments and the ambulance service if they need to treat you wherever you are in the country. 
More information is available here. 
Please note that in response to the coronavirus (COVID-19) pandemic, additional information will be included in Summary Care Records for patients by default, unless they have previously told the NHS that they did not want their information to be shared. This will improve the flow of information across the health and care system, increase safety, and improve care.

More information can be found here.